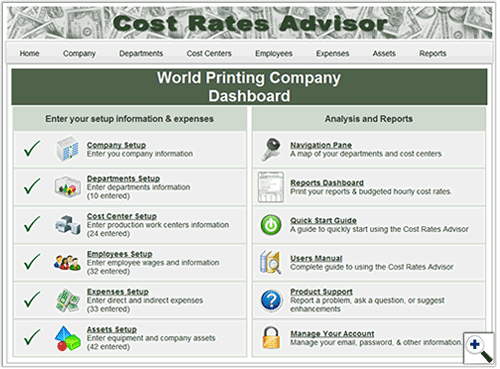 Profectus now offers an easy way to prepare your budgeted hourly cost rates. Our new Budgeted Hourly Cost Rates software simplifies the task of calculating budgeted hourly cost rates for your equipment. The Cost Rates Advisor is easy to use, "Cloud" software designed for the printing and packaging industry. Determining your hourly cost rates no longer needs to be a difficult and time consuming task. The Cost Rates Advisor was developed based on proven cost accounting principles, best practices, and standards used by industry leaders and experts. Click Here To Learn More About Budgeted Hourly Cost Rates Software
Budgeted Hourly Cost Rates Consulting
Profectus' budgeted hourly cost rates preparation services identifies your "True Costs" so you can sharpen your pricing and competitiveness on the more desirable work and avoid the less lucrative work. We prepare a budgeted hourly costs analysis of your equipment and labor activities. Our approach distributes 100 percent of your expenses among your cost centers so that your costs are accurately absorbed in your estimates, actual costs, and pricing.

You receive detail reports of your hourly cost rates and the information to support our analysis. The reports provide a breakdown of your cost data and budgeted hourly cost rates based on various productivity levels for each piece of equipment.
The reports identify the distribution of the following expenses:
Direct and Indirect costs
Manufacturing costs
Sales & Administration costs
All inclusive costs
Labor costs
Productivity levels
Cost per productive hour
and more..
Complete this form for a FREE consultation or additional information