Follow-us for free advice
Benefits
Gets invoices to customers faster and more accurately
Improved invoicing of anticipated and additional costs
Implements industry best practices proven by industry leaders
Improves communications among sales, customer service, accounting, and customers
Evens out billing workload and reduces end-of-month bottlenecks
Improves cash flow by getting invoices in the customer's hands faster
Gets invoices to customers faster and more accurately
Standardizes invoicing and AR procedures and processes throughout the organization
Improves the overall cost effectiveness, competitiveness, and profitability of your organization

Billing, Invoicing, & Accounts Receivables Practices
Sending timely and accurate invoices to customers is a critical step in your order-to-cash cycle. Though many organizations face costly challenges including time-consuming and error-prone invoicing procedures, missing billable charges, over 1-2 days to send out invoices, and end-of-month bottlenecks.
Profectus' consultants have the expertise to help companies identify these inefficiencies and implement best practices for reducing, streamlining, and managing your billing, invoicing, and accounts receivables process.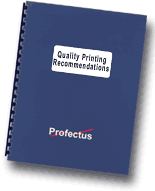 Our consultants work with your staff to learn, understand, and accurately assess your billing, invoicing, and accounts receivables practices. You will receive a detail custom written Findings and Recommendations report based on your organizations' unique situation. The report will identify your company's strengths and weaknesses and provide recommendations for improving the performance of your people, streamlining business processes, embracing best practices, and maximizing the capabilities of management information systems.
Our recommendations are backed by first hand exposure to hundreds of printing organizations and situations, and our extensive industry experience in management, operations, production, technologies, and systems. Profectus' consultants will than provide training specific to the culture, requirements, issues, and realities of your organization.
Example areas of focus:
Billing, invoicing, and accounts receivables practices, processes, procedures, and workflow.
Department structure and the responsibilities of management, billing, invoicing, accounts receivables, and others involved with in the billing process
Invoicing forms, reports, documents, and other related communications preparing invoices
Methods for communicating job information to billing, identifying and tracking jobs ready to bill, billing turnaround cycles, establishing the job bill price, and preparing bill/invoice documentation
The utilization of your information technology, accounting software, and the internet for invoicing jobs
Invoicing efficiency, turn-around time, and bottlenecks