Follow-us for free advice
Benefits
Implementation of industry best practices
Implementation of Just-In-Time practices
Reduced inventory quantities & costs
Reduced down time
More reliable and accurate inventory counts
Enhanced communications between vendors and staff
More accurate purchases and materials job costs
Better reconciliation of payables
Improved cash flow
Standardizes purchasing, inventory, and AP procedures and processes
Improves the overall cost effectiveness, competitiveness, and profitability of your organization

Purchasing, Inventory, & AP Practices
Poor purchasing, inventory control management, and accounts payables practices will cause many unforeseen and unnecessary costs to an organization. Profectus' consultants have the expertise to help companies identify these inefficiencies and implement best practices for reducing, streamlining, and managing inventory.
Profectus' consultants improve the efficiency, accuracy, throughput, and cost effectiveness your purchasing, inventory management, and accounts payable practices.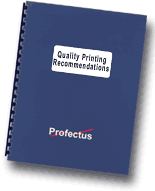 Our consultants work with your staff to learn, understand, and accurately assess your purchasing, inventory, and accounts payables practices. You will receive a detail custom written Findings and Recommendations report based on your organizations' unique situation. The report will identify your company's strengths and weaknesses and provide recommendations for improving the performance of your people, streamlining business processes, embracing best practices, and maximizing the capabilities of management information systems.
Our recommendations are backed by first hand exposure to hundreds of printing organizations and situations, and our extensive industry experience in management, operations, production, technologies, and systems. Profectus' consultants will than provide training specific to the culture, requirements, issues, and realities of your organization.
Example areas of focus:
Inventory, purchasing, and accounts payables practices, processes, procedures, and workflow
Department structure and the responsibilities of management, purchasing, material handlers, accounts payables, and others involved with the purchasing and inventory management process
Purchasing and inventory forms, reports, documents, and other related communications means including requisitions, purchase orders, receipts, stock tags, roll and sheet inventory labels, inventory releases, bill of materials, material usage logs, and other inventory reports
The management of raw materials including estimating, pricing, costing, requisitioning, purchasing, allocating, receiving, storing, replenishing, production planning, cycle counting, scheduling, back flushing, forecasting, consignment, processing transactions, and paying invoices
The management of managing finished goods inventory including releasing, picking, packing, manifesting, shipping, costing, storing, kitting, and distributing
The management of outside services including qualifying suppliers, estimating, pricing, costing, purchasing, scheduling, die-lines/proofs, communicating production instructions, and paying invoices
The utilization of your information technology, the internet, and data collection devices such as bar code scanners and portable RF terminals for ordering, maintaining, forecasting, measuring, and managing inventory