To be prosperous in today's environment, printing organizations must constantly look for better ways to improve efficiencies and reduce costs. To sustain competitiveness, companies continuously update their business practices, processes, and technology. Over time, even the most well-conceived business practices become obsolete, inefficient, and unresponsive to the changing needs and priorities of the company and customers. These inefficiencies often create other problems: hampered workflow, production delays, reduced efficiency, and excessive labor costs.
Printing organizations can significantly improve their bottom-line by applying proven "Lean Manufacturing" principles to their administrative environment. Profectus' Lean Printing Office© consulting solution employs lean principles to improve administrative processes including 5S, Kaizen Events, Process Mapping, Industry Best Practices, Information Technology, and Continuous Improvements.

Lean Printing Office© focuses on the administrative components of your Order-To-Cash Cycle including on sales, estimating, customer services, order entry, purchasing, invoicing, and other office areas. These administrative costs represent approximately 32% of an organization's value added. Lean Printing Office eliminates office wastes, increases efficiencies, reduces overhead costs, improves workflow, enhances your ability to meet customer demands, improves your competitiveness, and boosts profitability.


Lean Printing Office© focuses on the administrative components of your Order-To-Cash Cycle
Comprehensive Assessment of Your Organization
Profectus' expert consultants conduct a series of onsite meetings, interviews, and Kaizen Events with your team to evaluate your business. Profectus identifies the current "as-is" state of your business, pinpoints gaps in practices, and identifies opportunities for improvement in the following administrative areas.
Sales
Customer Service
Estimating
Pricing


Order Entry
Production Scheduling
Purchasing
Inventory


Job Costing
Invoicing
Accounts Receivables
Accounts Payable

Every component of your organization's administrative areas are scrutinized including your business culture, philosophies, environment, practices, processes, documents, communications, customer interactions, supplier interactions, department collaborations, employee responsibilities, skill sets, workflows, bottlenecks, delay points, value added and non-value added activities, cost factors, the utilization of information technology, and more.
Business Process Maps

Kaizen Events are conducted with your team to create Business Process Maps of your various administrative workflows including estimating, order entry, finished goods orders, scheduling, purchasing, job costing, invoicing, accounting, and other business processes. Mapping your processes will identify wastes, redundancies, non-value added activities, and inefficiencies in your workflow.
Industry Best Business Practices
Best business practices are techniques, methods, processes, procedures, or systems that have proven successful by industry leaders and experts. Profectus can help your organization considerably improve its performance, lower costs, improve quality, expand revenue, and increase profitability by embracing these industry's best practices.
Management Information Systems Utilization
Although companies spend months, if not years, selecting and implementing a system, many companies utilize less than 50% of the software's functionality. This is typically because most companies and users never fully understand the system's capabilities. When properly utilized, a business management system will provide generous paybacks to your organization by reducing costs, improving productivity, improving customer relations, increasing profits, and empowering your people with timely and useful information. Our understanding of the industry and inner workings of Management Information Systems will significantly ensure that the system works in harmony with your business goals and the capabilities of the system.
Change Management
Profectus' change management skills will effectively transition your organization through change. Our change management process includes creating a change management strategy, engaging and coaching managers as change leaders, building awareness of the need for change, developing skills and knowledge to support the change, helping employees move through the transition, and sustaining the change.
Employee Training and Coaching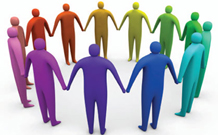 Integrating a personality and behavioral assessment into our Lean Printing Office solution will help to understand employee styles, behavioral strengths, team dynamics, and individual challenges so we can develop strategies to address the diversity of people in your organization to improve work productivity, teamwork, and communications. Profectus provides custom team building sessions, interventions and tools to help your employees build trust, communicate effectively, and work better together. Management coaching is also available to help leaders focus and energize their teams, meet goals, deadlines and objectives, address conflict and disagreement, and collaborate across boundaries.
Recommendations
Your company will receive a custom written detail Finding and Recommendation report based on your organizations' situation for embracing lean office principles, implementing best practices, improving the performance of your people, streamlining business processes, and maximizing the capabilities of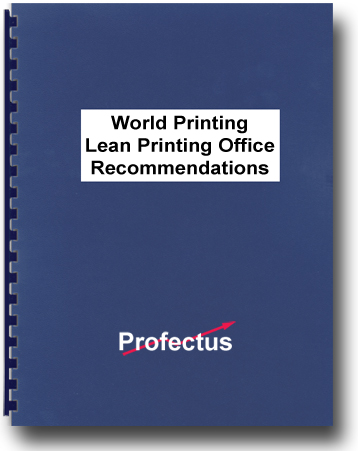 management information systems. Our recommendations are backed by first hand exposure to hundreds of printing organizations and situations, and our extensive industry experience in management, operations, production, technologies, and systems.
The professionally written report will contain detail explanations of each finding, the benefits of implementing each recommendation, a table of contents, charts, illustrations, and examples. The report is an important guide for creating a vision of where your organization wants to be, understand where you currently are, and identify an appropriate strategy to optimize the business.
Implementation
A key success factor in Profectus' deployment of Lean Printing Office, is tailoring the scope of the implementation to address the specific culture, requirements, issues, and realities of each customer. We identify the required improvement tasks, develop an execution plan, set realistic timelines and priorities, and assign tasks to your employees. Profectus trains your employees on various topics as needed including lean, estimating, customer service, inventory, production, cost accounting, management, and information technology.
"Organizations have reduced administrative costs by as much as
30% by implementing Lean Printing Office."