Follow-us for free advice
Benefits
Increases billing and revenue; mutually charge customers for more billable activities and customer changes
Sharpens your estimates by making estimated costs consistent with actual costs
Speeds billing cycle by having more accurate and timely costing information
Improves your competitiveness
Implements industry best practices
Improves your cash-flow
Improves your cost accounting business processes
Standardizes billing and cost accounting procedures and processes
Improves the overall cost effectiveness, competitiveness, and profitability of your organization

"We are very satisfied with the consulting service that was provided. I would recommend Profectus to other professionals in this industry without question. In fact, we plan on using Profectus in other areas of our company in the future."

John, President
Tandem Printing
Eagan, MN
32 Employees
Sheetfed, Digital, Mailing, Commercial, Promotional

Cost Accounting Practices
In the era of increasingly thin margins, fast and effective management of pricing policies is critical to your ability to prosper in your marketplace. The problem is trying to maintain a cost structure that reflects your current costs and productivity is often a tedious and overwhelming task.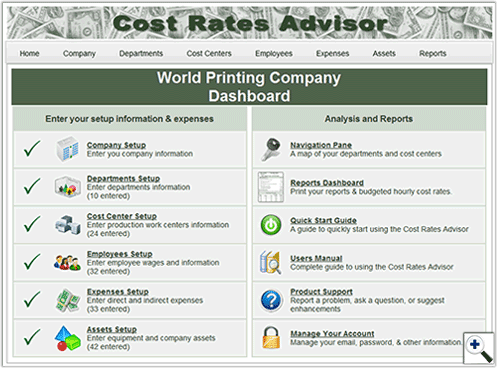 Profectus offers an easy way to prepare your budgeted hourly cost rates. Our Budgeted Hourly Cost Rates software simplifies the task of calculating budgeted hourly cost rates for your equipment. Cost Rates Advisor is easy to use, "Cloud" software designed for the printing and packaging industry. It was developed based on proven cost accounting principles, best practices, and standards used by industry leaders and experts. Click Here To Learn More
Profectus' expert consultants can solve your cost accounting problems by providing a proven closed-loop approach for measuring your costs, establishing hourly cost rates, tuning your estimating and costing systems, recovering all of your expenses with sales, and determining your "True Costs". We provide insight to all of your costs and activities that impact your bottom-line.
Our consultants work with your staff to learn, understand, and accurately assess your cost accounting practices. You will receive a detail custom written Findings and Recommendations report based on your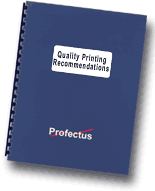 organizations' unique situation. The report will identify your company's strengths and weaknesses and provide recommendations for improving the performance of your people, streamlining business processes, embracing best practices, and maximizing the capabilities of management information systems for capturing and reporting costs.
Our recommendations are backed by first hand exposure to hundreds of printing organizations and situations, and our extensive industry experience in management, operations, production, technologies, and systems. Profectus' consultants will than provide training specific to the culture, requirements, issues, and realities of your organization.
Example areas of focus:
Cost accounting and invoicing practices, processes, procedures, and workflow
Accounting and invoicing department structure and the responsibilities of management, job costing staff, and others involved with the cost accounting and invoicing processes
Cost accounting and invoicing forms, reports, documents, and other related communications means including production time cards, job cost reports, estimated verses actual reports, invoices, and work-in-process reports.
Communicating job information to the billing department, identifying and tracking jobs ready to bill, billing turnaround cycles, establishing the job bill price, and preparing bill/invoice documentation
Accuracy of capturing labor and equipment time, material transactions, production counts, and other cost information
Accuracy of capturing chargeable and non-chargeable production activities, labor hours, product quantities, good and bad material consumption, and costs
Methods of analyzing and measuring individual job costs and profitability including auditing captured data, identifying missing information, editing or making corrections, and closing out jobs
The utilization of information technology and the internet for collecting job costs and invoicing customers including the setup of cost centers, operation/process codes, and shop floor data collection