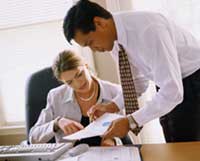 Running your business with substandard, outdated, or improperly implemented software may be putting our company at risk! The more an organization depends on a management information system the higher the risks may be. A risk assessment can identify positive opportunities and/or negative threats.
Profectus' software assessments are designed to quickly baseline the current "as-is" state of your company's information technology and compare your situation to printing industry accepted technologies. This assessment identifies where your information technology investment presently is and where it should be relative to your business objectives.
Profectus measures the risk of your situation based on 9 or more criteria's. Each criterion carries a risk weight based on the hazards they bring to your organization. By proactively identifying the risks, appropriate precautions can be put in place to eliminate or otherwise manage them.
Our software assessment will help you gain a thorough understanding of your organization, pinpoint gaps in your systems, determine if your business is at risk, and identify opportunities for improvement. Our recommendations take in consideration not only at your immediate needs, but also where you need to be for the future.