Follow-us for free advice
Benefits
Get orders into and through production faster and more accurately
Enter more orders in less time and with less resources
Easier to read job tickets
Improves accuracy and consistency of job instructions and tickets to production
Quicker response to customer needs
Better management and billing of customer changes
Improves customer relationships
Smooths and even outs workflow
Enhanced customer, sales, & staff communications
Standardizes order entry procedures and processes
Improves the overall cost effectiveness, competitiveness, and profitability of your organization

"We hired Profectus to help us in streamlining our workflow to fit in with the implementation of our new ERP system. Profectus has been able to provide us much insight and has helped us to drive out many inefficiencies throughout this entire process. We could have never realized the same success without their assistance."
Top qualities: Great Results, Expert, High Integrity

Gene, Operations Manager
Outlook Group,Neenah, WI
640 employees, 3 locations
Flexography, Sheetfed, Digital, Commercial, Packaging, Labels

Order Entry and Customer Service Practices
Profectus' order entry practices consulting services improves the efficiency, accuracy, throughput, customer relationships, and cost effectiveness your order process; from customer through your entire order entry.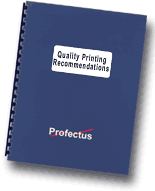 Our consultants work with your staff to learn, understand, and accurately assess your order entry and customer service practices. You will receive a detail custom written Findings and Recommendations report based on your organizations' unique situation. The report will identify your company's strengths and weaknesses and provide recommendations for improving the performance of your people, streamlining business processes, embracing best practices, and maximizing the capabilities of management information systems for order entry.
Our recommendations are backed by first hand exposure to hundreds of printing organizations and situations, and our extensive industry experience in management, operations, production, technologies, and systems. Profectus' consultants will than provide training specific to the culture, requirements, issues, and realities of your organization.
Example areas of focus:
Order Entry and Job Planning practices, processes, procedures, and workflow
Department structure and the responsibilities of management, salespersons, order entry, customer service, and others involved with the order entry process
Order entry and planning forms, reports, documents, and other related communications means including order request forms, credit applications, job tickets, production instructions, and finished goods inventory releases
The management of prioritizing orders, tracking orders statuses, and managing on-time deliveries
The management of customer changes (AA's) including receiving and documenting changes from sales or customers, and communicating changes to the plant and billing
The utilization of your information technology and the internet for receiving orders from customers, entering and planning orders, creating production instructions, tracking orders, and communicating order information to customers