Business and production management systems for the printing and packaging industry provide a rich and diverse set of options for organizations. The abundance of options can, however, make the process of selecting the most appropriate solutions a daunting task. Especially with over 100 products to choose from. You hope to make the right decision, but you do not have the expertise, time, or resources to thoroughly evaluate the countless systems so that you can make an informative and confident decision.
Profectus' consultants can help you make the right software investment decision. Our software selection approach is designed to help printing organizations confidently evaluate and find a solution that will best fit their needs. It is based on a proven methodology that has help printing and packaging organization throughout North America evaluate, purchase, and implement systems.
Profectus is the industry's leading authority on systems and has a profound understanding of the vendors, software products, functionality, features, successes, and failures from:
30-years of helping printers evaluate and purchase systems
observed over 500 product demonstrations
participated in over 200 implementations
involved with over 100 software sales contracts and negotiations
regularly conducts product and satisfaction surveys
involvement with industry associations and committees
Funnel Strategy
Using a "Funnel Strategy" we initially benchmark your requirements against over 150 printing industry management systems and through a logical cycle we filter out the unsuitable products, eventually leading your organization to a best-fit solution. You will be confident that you have considered all options before investing in a system. The entire process only takes between 8 and 12 weeks!
Proprietary Product Database
We've invested over 15 years and thousands of hours developing a comprehensive database of over 100 software products available to the printing and packaging industry. Our proprietary database contains over 100,000 software functions and features available in products covering every aspect of a system; from e-commerce, through order entry, production, JDF, and accounting. This powerful database will help you rapidly find a software solution based on factual data rather than sales hype and emotions.
Detail Requirements
One of our senior consultants works with your team to identify and prioritize your business and software requirements referencing our proprietary database of over 1,500 software functions available in systems.
Requirements are defined for all aspects of a system:
Hardware
Internet e-Commerce
Web-To-Print
CRM
Sales
Estimating / Pricing
Order Entry
Change Orders
Job Tracking

Scheduling
Production
Shop Data Collection
CIM/JDF/JMF Shipping
Purchasing
Raw Inventory
Finished Inventory
Job Costing
Billing/Invoicing

Accounts Receivable
Accounts Payable
General Ledger
Payroll
Fixed Assets
EDI/XML
Reports
KPI Benchmarks
Dashboard
Search for Best-Fit Solution
Analysis of products to identify a short list of products that come closest to your organization's requirements using our proprietary product database.
Request For Proposal (RFP)
A system Request For Proposal (RFP) ready to send to software vendors so you receive competitive prices and the appropriate information to support your software investment decision and protect your investment.
Product Comparison Study
You get a comprehensive product comparison study that weighs the capabilities of each product against your requirements.
Proposals Review
Interpretation and analysis of vendor proposals with your team to identify the suitable and cost prohibitive products.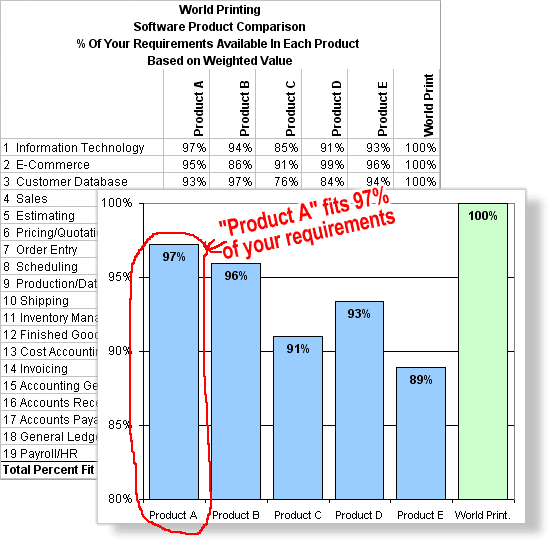 Product Demonstrations and Scripts
Our consultants orchestrate and manage the product demos so you receive a good representation of how each product will function in your environment. Our consultants work with your team to develop detail scripts for the prospective vendors to follow during their onsite demonstration so your team gets a fair comparison of each product.
Product Evaluation Tools
We provide your team with numerous evaluation tools designed to help each team member document and track each product's and make an informed decision.
Unbiased Recommendations
Profectus is a vendor-independent organization. We do not sell software, develop software, or represent any of the software providers. The products we consider and the recommendations we provide are absolutely unbiased and solely in our customers best interest.
Contract Negotiations
Our experience with vendor strategies for pricing and working through contract issues can protect your interests, maximize your buying power, lower your investment costs, and can save you costly errors.
Return-On-Investment Analysis
Often a return on investment analysis is needed to support the justification and approval of software expenditures. Using your organization's figures, Profectus can prepare a detail report that identifies the potential return-on-investment your company could realize from a system.